Crossing Lines is a crime series located on the European Continent. It is about the lives of several police experts and the serial crimes that they try to solve and bring criminals to justice.
 Main article: Season 1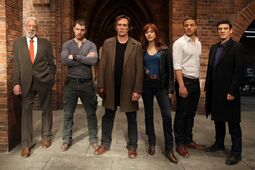 Former NYPD officer Carl Hickman's life has fallen apart after he was injured on the job; he has become addicted to morphine and is working as a garbage collector at a carnival in the Netherlands. He is recruited to join the International Criminal Court's special crime unit. Based in the Hague, it investigates crimes (some serial, others not) that cross international boundaries. The unit includes an anti-mafia covert specialist from Italy, a tech specialist from Germany, a crime analyst from France, and a weapons specialist and tactical expert from Northern Ireland.
 Main article: Season 2

Louis' and Rebecca's lives hang in the balance in the Season 2 premiere. Meanwhile, Dorn tries to take down Dimitrov. Genovese returns to New York and becomes involved with human trafficking. The team hunts a sniper who is randomly killing innocent people. A string of teen suicides that may be linked to Internet bullying are investigated. A German biker gang embarks on a home-invasion spree. Meanwhile, Sebastian goes undercover for the first time. As Genovese awaits trial, he offers the ICC an attractive bargain. The team goes after a gang of black widows who seduce wealthy men into marriage and then poison them. A string of deaths are traced to toxic cocaine in London. The ICC tries to protect a movie star after a string of murders involving a film director, agent and journalist take place. The disappearances of several backpackers may be linked to a serial killer. The second season ends as the gang escalate their deadly rampage; and the team deals with tragedy and deception.
 Main article: Season 3

Inspector Marco Corazza is haunted by the disappearance of his sister when she was a child, so he earned his master's degree in criminology quickly to ascend to the rank of Inspector of the Polizia di Stato di Milano. A lone wolf with a passionate temperament, Marco uses his wit to cover up the confusion about his private life. He has an empathic mind that allows him to enter the minds of both murderers and victims, a feature that caught the attention of Dorn and to make him an assistant in a hostage based situation.